Give A Kid A Coat Distribution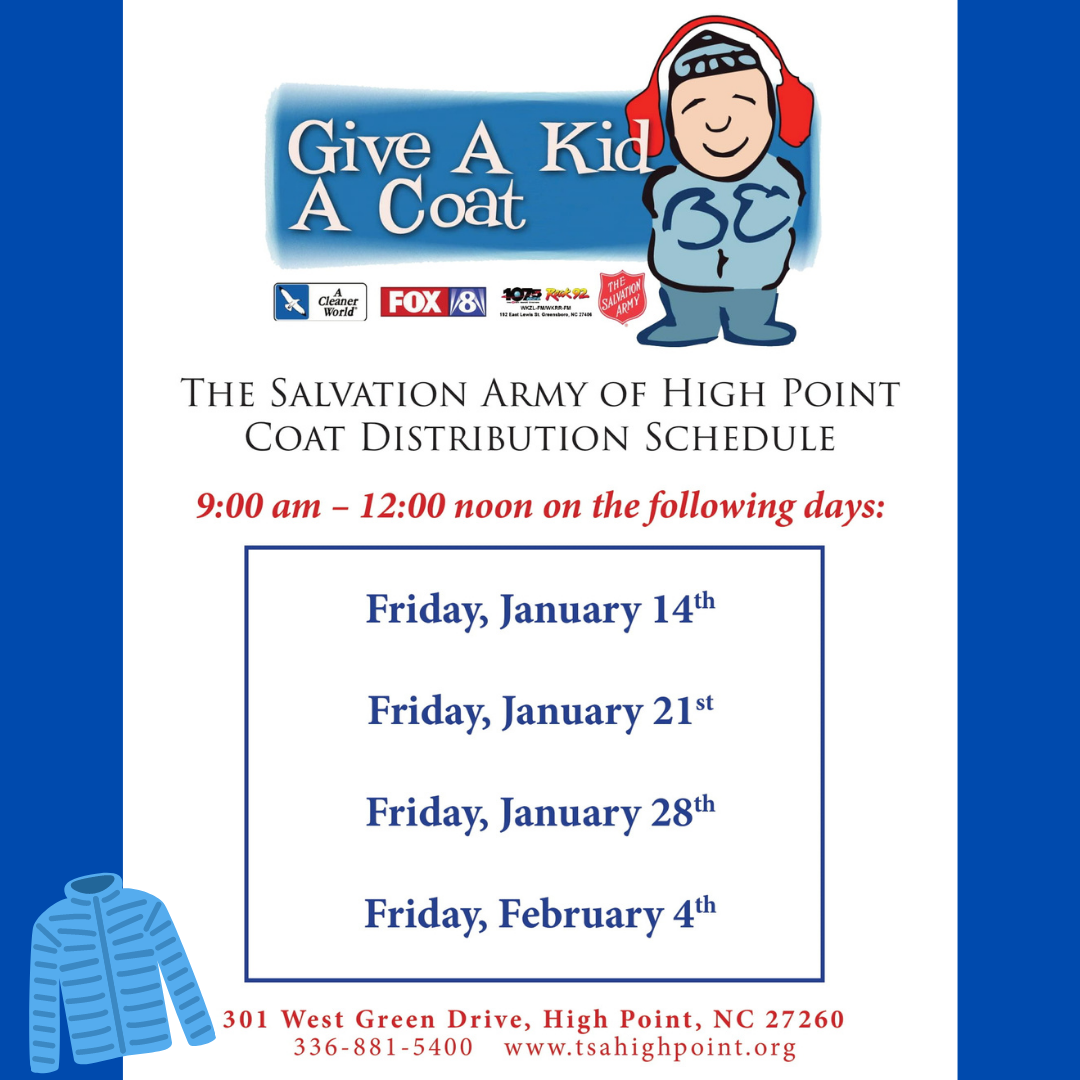 ---
GIVE A KID A COAT DISTRIBUTION FOR
THE SALVATION ARMY OF HIGH POINT
"The Gift of Warmth"
HIGH POINT, NC (January 11, 2022) --- Beginning January 14th through February 4th, The Salvation Army of High Point will distribute free winter coats and outerwear to local adults and children in need on Fridays from 9:00am-12noon!
When: Fridays (January 14th– February 4th)

Where: 301 West Green Drive, High Point, NC 27260

Time: 9:00 am – 12:00 noon on distribution days
Beginning Friday, January 14th, community members in need are invited to come to The Salvation Army at 301 West Green Drive, High Point, NC 27260 to receive a free winter coat from the FOX8/A Cleaner World's 35th annual Give-a-Kid-a-Coat campaign.
The Give-a-Kid-a-Coat campaign collects coats for adults and children in need throughout the triad. Community members who wish to donate winter wear can drop off new or gently used coats at their local A Cleaner World location now through February 12th. ­ To make a monetary donation, please visit https://give.salvationarmycarolinas.org/GAKAC22

Donors can also shop online and have coats delivered directly to The Salvation Army of High Point through the following Walmart Registry for Good link: https://bit.ly/GAKAC2022
Attachment: High Point Coat Distribution Flyer
About The Salvation Army
The Salvation Army annually helps more than 23 million Americans overcome poverty, addiction, and economic hardships through a range of social services. By providing food for the hungry, emergency relief for disaster survivors, rehabilitation for those suffering from drug and alcohol abuse, and clothing and shelter for people in need, The Salvation Army is doing the most good at 7,600 centers of operation around the country. In the first-ever listing of "America's Favorite Charities" by The Chronicle of Philanthropy, The Salvation Army ranked as the country's largest privately funded, direct-service nonprofit. For more information, visit SalvationArmyUSA.org. Follow us on Twitter @SalvationArmyUS and #DoingTheMostGood
About Give-A-Kid-A-Coat
The 2022 Give A Kid A Coat campaign kicked off this past Friday during a live event with WGHP/FOX8 and 1075KZL/Rock92 at A Cleaner World locations in Winston-Salem, High Point, and Greensboro. This year's kickoff garnered 2,009 coats!
Since its inception in 1987, the campaign has distributed 925,918 coats. The 2022 campaign began Friday, January 7th and will conclude on Saturday, February 12th. Residents wishing to participate in this year's campaign can bring their outgrown coats or coats no longer being worn to any A Cleaner World location. Coats will be cleaned, repaired, and given to The Salvation Army for distribution to needy children and adults. Distribution will begin in early January, and more details will be provided via the A Cleaner World, FOX8, and Salvation Army websites. Give A Kid A Coat is sponsored by A Cleaner World, WGHP/FOX8, 1075KZL, Rock92, and The Salvation Army. For additional information, please call Brian Harrell at 336-841-4188.